6 reasons to choose plastic card printing
No multiple investments:

When you issue plastic cards with a specialized printer, one machine is all you need! No other investment is necessary. Whereas for the paper version, you need several machines, including a standard office printer, laminator, and cutter.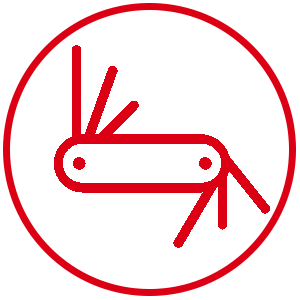 All-in-one solution:
Beyond the card printer itself, there are "all-in-one" solutions that give you everything you need to start printing badges.  This is what you get with Badgy, which includes consumables (cards and ribbons), creation software, and even a card library with free templates created for many sectors and uses. There's no need to hire a graphic designer to get fully customized cards in your establishment's colors. You do everything yourself with an easy-to-use and intuitive solution designed for all users.
Cost control:

When you print your own badges, you benefit from a reduced per-card cost. In fact, you won't have to put up with price increases from your printer or delivery charges. You produce your cards within your organization, whenever you want. You can also choose to print in color, or alternatively in black only for even more savings.
Quantity control:

Using a service provider to issue a small number of cards is usually expensive. By printing your badges with a plastic card printer, there is a single cost per unit that does not vary according to the quantities you print.
You produce only the quantity you need and avoid waste.
You are no longer dependent on the minimum quantities imposed by your traditional printer.
This makes it possible to issue a single card at a lower cost.
Durability:

Unlike laminated paper badges that can quickly become damaged, torn, or yellowed, PVC is much stronger and more durable. Thanks to their longer lifespan, your badges need to be replaced less often. You print only when you need to, saving time and money.
Versatility of use:

Optimize your investment! A card printer offers multiple possibilities for creating badges. The plastic card can be adapted to any organization. With the same machine, you can print several types of cards for different uses. A company can create employee badges, business cards, visitor badges, or event badges. A retailer can create loyalty cards, gift cards, or employee badges. A school can create canteen cards, staff badges, educational cards, or signage cards, etc.