Print your own custom badges for trade shows, events, seminars, etc.
Gain flexibility with easy badge printing for trade shows
Organizing an event requires attention to detail to ensure that everything is taken into account. Its success depends on many factors, but welcoming and managing attendees and event staff is critical. The creation of custom event badges to identify each person is a critical step, but it can become a real headache when you have to rely on external providers. Events require great agility so that you can adapt to unforeseen circumstances that crop up at any moment.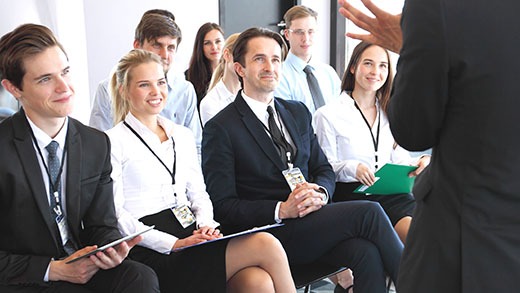 With an all-in-one solution like Badgy, you can easily manage the logistics of ID badges for your event:
You can create the design of your badge before the event using the included Evolis Badge Studio software.
You can then print personalized event badges in advance, based on your confirmed guest list in Excel.
You can take your Badgy everywhere with you—to your trade show, seminar, meeting—to instantly issue event badges in a few seconds as you need them.
You can identify each of your participants by giving them a personalized ID badge in just a few seconds. This eliminates waiting lines at the welcome desk and improves the flow of entries. You can also ensure secure access by printing a barcode or QR code that can be scanned easily.
Stand out from the crowd with professional-looking, personalized event badges
Apart from being a simple way to identify participants, organizers, and service providers, event ID badges are also an interesting means of communicating your organization's image.
Because the badges are fully personalized, you can display your logo, your contact information, or visual elements in your colors or related specifically to your event. This makes your event ID badges unique, while also promoting your company's presence and status. You can reinforce your brand by facilitating interactions:
You can display information related to the event itself (dates, times, security office phone number, etc.) as a guide for visitors during the event.

You can choose the details included on each of the personalized event ID badges to enable participants to identify key people and engage in conversation or make a request.

Finally, the plastic badge also offers you a way to stand out!
Finally, the plastic badge also offers you a way to stand out! For example, with Badgy, you can design and send original invitations for your event that will be more memorable for your guests.
How about printing on paper cards for your event?
Badgy is also a paper card printer!
Your event may only last a day or an evening, in which case Badgy paper cards can be an excellent alternative to PVC cards. Made of thick paper, they are ideal for short term use (from a few hours to a few days), your paper event badges printed with Badgy allow you to get a professional black monochrome print at a reduced cost.
Moreover, printing paper event badges allows you to have a low environmental impact since the paper is compostable and recyclable.
Paper or plastic event badges? It's your choice!