Easily create your health professional cards and badges
Highlight the quality of your healthcare services with professional cards
Patients are often searching for a reliable medical organization that will provide a professional service according to their needs. Offering ID cards for medical staff and patients or information labels for your medical devices allows you to provide a first layer of reassurance and to highlight your professionalism.
Easily identify your healthcare staff to ensure secure access to your facility or for home visits
It is important for patients to be able to quickly identify the health professional with whom they are speaking.
A fully-customizable health professional ID badge provides simple, effective, and reassuring visual identification for patients and their families. 
Manage access and scheduling in your organization, with a barcode or a QR code for each employee.
By choosing Badgy's all-in-one solution, you can create all your own healthcare cards according to your needs and your workforce.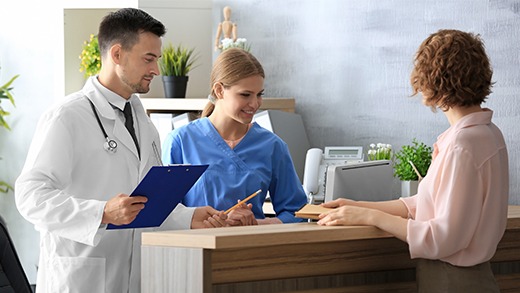 Take advantage of a durable and hygienic means of identification, adapted to the constraints of the healthcare sector
Badgy allows you to print badges on plastic cards. This format offers many advantages in the medical field. Plastic cards are durable and resistant to the intense use that they can undergo. They are easily washable and ensure maximum hygiene. Lastly, the cards are difficult to forge. Since you create your own cards, you can fully personalize them with elements that are specific to your business. Whether as badges for healthcare staff or certification cards for your medical devices, our solutions are perfectly adapted to your needs.
Enhance the professional image of your establishment or your care services
High-quality ID cards are an excellent way to promote the professional image of your facility, staff, and patient services. With customizable card templates and intuitive software, you can easily add your logo or your colors to match the visual identity of your medical organization.
Thanks to Badgy's paper card printing, you can also offer your patients appointment cards or cards with their login information to access their files. No more forgetting! You simply enhance your healthcare services with professional paper cards, an alternative to PVC for this kind of short-term use.
Badgy's packages can be adapted to even the most specific needs!