Use your imagination to create and print innovative, professional business cards
Turn your business cards into real communication tools with our intuitive business card software
The business card is a traditional item found in many professional environments. Its primary function is to provide essential contact information in an efficient manner, but it can also become a real asset for your business. The small format of the business card means that your message has to be short and concise. It is therefore essential to know what information you want to share and with whom. Make your business card a communication tool that reflects your company or business according to your needs.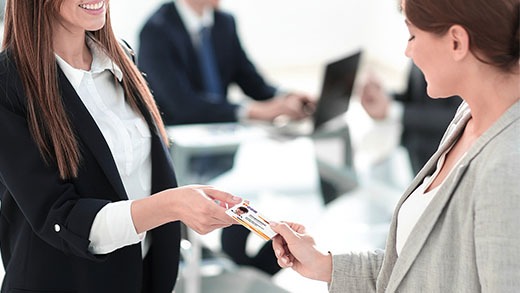 By opting for the Badgy solution, which includes a printer for creating business cards and design software, you have everything you need to personalize your business cards. You can easily integrate your logo, contact details, photo, hours of operation, and other important information.With business cards, you can expand your professional network or build customer loyalty.
Stand out from the crowd by printing your own business cards on beautiful, durable PVC
The business card is part of the professional code that is still firmly established in companies and businesses. It most commonly takes the form of a simple printed card. But if there's one tool you can use to easily stand out from your competitors, it's the business card! Badgy allows you to make your own plastic business cards, for a professional and unique look. With a dedicated printer for PVC business cards, you can easily stand out in your contacts' wallets.
The plastic format is high-quality and durable
Your business cards are more resistant to daily handling than paper versions, which in turn reinforces your brand image.
With the Badgy solution, you don't need to be a graphic designer to create original business cards! You can design your business card from scratch or take advantage of the free downloadable business card templates in our online template library. You can choose between several original designs that you can then fully personalize in the Evolis Badge Studio software, included in the  printing kit. You can even use the software to create a QR code and print it on your business card to direct your contact straight to your website!