Print your own personalized company cards and badges with Badgy
Stand out from the crowd with professional company cards that reflect your image
Organizing your company, managing staff, controlling visitor access, and running events are all areas in which a solution to design and print your own company badges is an interesting proposition.
Indeed, issuing company cards yourself has many advantages.
Make your business premises secure
Personalized ID cards allow you to easily manage employee, contractor, or external visitor access to your premises or events. These badges provide simple, visual identification with the addition of photos, barcodes, or QR codes that can indicate the authorizations of each person. The plastic card format is also durable and difficult to forge.
Did you know that you can also choose paper cards for your visitor cards? Available in the Badgy offer, they are an ecological alternative for short-term use.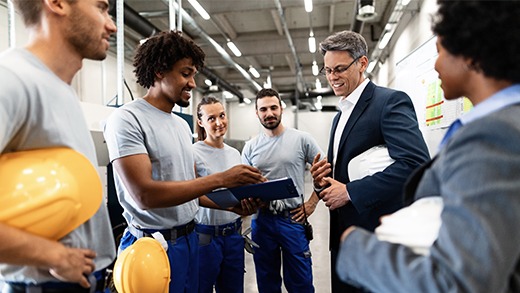 Enhance your company's brand image
More than just company badges, each of your cards can also convey the professionalism of your company. Whether it's employee ID cards, business cards, invitations, or even interior signage, every card or badge is a way to stand out from the crowd. With Badgy, you don't need to be a graphic designer! Fully personalize your company cards and badges with your logo and colors using the included software and card templates. This allows you to enhance your brand image internally and with your customers.
Gain flexibility
Have you just hired a new employee? Has an employee lost their company badge? No problem. If you choose an all-in-one card printing solution, you can issue your own badges on demand, in a matter of seconds. You are no longer dependent on an external printer or supplier, nor subject to a minimum order. Issue or replace cards immediately, while ensuring a high-quality and professional appearance. Save valuable time with the ability to easily manage your databases from the included design software!
Badgy solutions are adapted to all your needs!