Our solution for printing badges for your employees
Employee ID and access badges to ensure the security of your infrastructures
Corporate ID badges are an essential tool in the organization of any business.They can be used in several ways depending on the needs of your company and its activities. Employee ID badges are a means of visually identifying all your staff using a durable and easy-to-read medium. It contains all the information related to the holder, such as their name, position, department, and photo.
Access badges can specifically indicate the authorization of your employees or external service providers/contractors to enter certain premises or construction sites. You can easily indicate the level of access authorization using a color code, for example. It is also possible to add a barcode or QR code to simplify data management.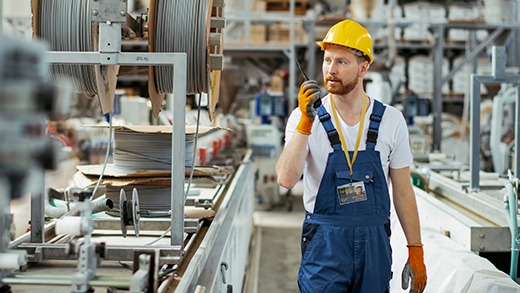 Thanks to this simple visual identification, you can improve the flow of staff arriving and leaving, while also ensuring that the security of entrances to your facilities. Finally, as the plastic card format can be fully personalized, your professional ID badges will be difficult to forge.
Lost badge or new employee? You can print out a new ID badge in a matter of seconds.
Professional employee badges to enhance your brand image
When designed in line with your corporate identity, employee badges can clearly convey an element of professionalism for your brand image.
Badgy solutions allow you to choose an ID badge template to personalize, or design your own employee badge. You can adapt these badges to fit your corporate identity, by adding your colors as well as your images or company logo. This high-quality medium combined with professional color printing reinforces a sense of belonging among your staff.
Are your employees in contact with customers in a store or at the reception desk? ID badges make them easy to identify, which improves the buying process and overall customer satisfaction with your organization.
With Badgy, everything you can imagine is possible!