Independent printing of personalized gift cards on demand in your store
Make your gift cards a real sales asset
Creating a gift card for your business may not seem particularly important, but it is always interesting to offer new products to your customers. The gift card is an additional product and complements your usual offering to consumers. It is a simple purchase that does not require much research or commitment from the person who chooses it. You are guaranteed to make additional sales easily to increase your turnover.
The gift card also becomes a means of communication with your customers.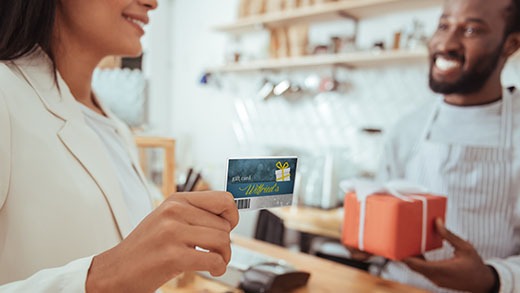 If they have chosen a gift card from you, it is because they are loyal and convinced that it will make someone else happy too. They become real ambassadors for your brand.
New customers discover your store through a personalized, professional-looking gift card. If they are satisfied with their visit, you can easily they will likely return for future purchases.
Choosing to make your own gift cards also allows you to manage your inventory. Gift cards can be printed instantly, on demand, and only when you need them. You can also limit the number of gift cards available for sale, or only offer them at certain times of the year.
Add value to your store's identity with an affordable solution for printing your gift cards
Creating gift cards within your business offers multiple advantages for your brand image. By choosing the Badgy gift card solution, you have everything you need to:
adapt perfectly to your customers' needs by offering gift cards for the desired amount without any constraints.

enhance your customer relationships by easily personalizing the gift cards in a few seconds with the name of the recipient or with a message from the person gifting the card.
get cards in your brand colors.
You don't need to be a graphic designer. You can ensure the consistency of your store's visual identity thanks to the intuitive Evolis Badge Studio design software. It allows you to create a fully personalized gift card by importing your logo and images in a few clicks. You can also insert a barcode or QR code to make it easier for the cardholder to track their spending.
And all while keeping your expenses under control! In addition to being the most affordable solution on the market, Badgy ensures a reduced cost per unit for each of your gift cards, since you no longer need to meet the minimum order quantity of your external supplier.