Choose a solution that allows you to create personalized loyalty cards for your business on demand
You can reward your VIP customers with personalized loyalty cards
You are likely to have customers who regularly visit your point of sale because they like your products, your services, or your location. These customers are essential to your business because if they are satisfied, they will often recommend your business to new people.
Creating a loyalty card to reward these regular customers is a great way to show that you care about them. Based on their repeat purchases, you can offer them a discount, a benefit, or a free product to make them happy and reinforce their loyalty. One way to accomplish this is to design a visually attractive privilege card that reflects your business and is easy to understand.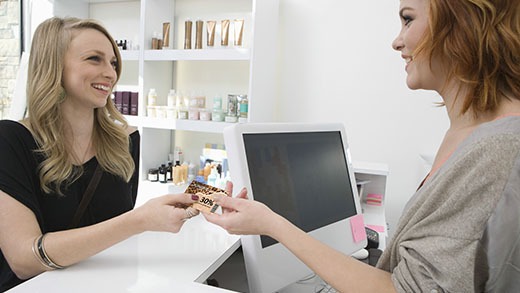 Choosing to print customer loyalty cards directly at your point of sale with a solution like Badgy allows you to:
create a VIP card based on a Badgy library template

or a blank loyalty card by integrating your corporate style.

get personalized loyalty cards in a few clicks including the name of the beneficiary and their discount(s).

give a professional-looking plastic card to your best customers instantly.
You can add value for your privileged customers and increase customer satisfaction.
You can increase your sales and are no longer dependent on a third-party loyalty card provider
A loyal and faithful customer will always benefit your business. So, beyond keeping your regular customers happy, a personalized loyalty card will also allow you to reinforce your sales growth strategy. A VIP card offering interesting benefits encourages your customers to buy more to enjoy their reward sooner. Your customers will also be inclined to make new purchases, sometimes on impulse, always with the same goal.
You can increase your turnover with little personal effort.
You can strengthen your image by ensuring your customers are satisfied because they have benefited from a Reward.
At the same time, you can build up a solid customer database that will allow you to devise additional marketing campaigns to boost your sales.
To facilitate the implementation of your loyalty program, the Badgy solution allows you to create personalized loyalty cards and print them without any special skills or training. Everything is included. You no longer need to rely on a third-party loyalty card provider and are free from their constraints.
Paper loyalty cards are also possible with Badgy!
Choose to print and stamp paper loyalty cards
Perhaps you don't have an electronic loyalty system? No problem, Badgy is also a paper card printer! As an alternative to plastic loyalty cards, the paper loyalty card still allows you to reward your regular customers with an easy-to-follow stamping system.
Printed in black monochrome on paper as thick as a plastic card, it looks professional and is difficult to crease. And all at a low printing cost!
And the good news is that your paper loyalty cards are still fully customizable thanks to the design software included in our solutions.
Paper or plastic loyalty card? It's your choice!