Why and how to make a library card for your organization ?
Facilitate the management of loans and returns with library cards
The library card is a simple tool to implement for simplified management of your organization. Whether in a school or community library, you are likely to have many readers who come to borrow books, DVDs, or games. The library card will allow you to quickly identify the members of your library using a durable ID card personalized with:
full name
year of registration
city, school or grade
picture,
barcode used to record loans and returns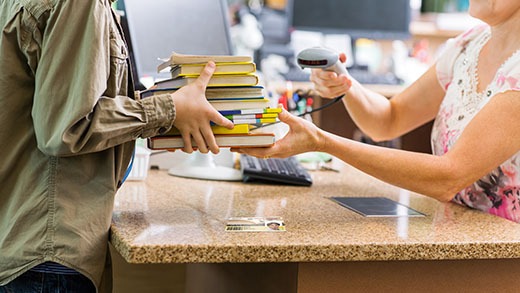 This library ID card makes interacting with your members more reliable and quicker, since you don't need to enter data manually in your database. You can simply refer to the member number or the barcode on the card. Designing and printing library cards within your organization is quick and easy, thanks to the Badgy solution. The included software allows you to manage the personalization of each of your cards from your Excel database. Evolis Badge Studio also allows you to intuitively create a barcode. You have complete independence!
Add value to your library service with a personalized library card
In addition to managing your library, library cards are also a tool to promote your services.
By instantly issuing a card to the member, you showcase the efficiency of your organization. The member has immediate proof of registration
It is also a tool that makes life easier for library members. If you have an online reservation service set up, the library card indicates their membership number which gives them access to this function. This may also be necessary if you are implementing an automatic lending service that works by reading the barcode on the card.
Finally, the library card can also become a means of communication for your organization. You can easily personalize it to match your visual identity by importing your logo or images. You don't need to be a graphic designer! Badgy offers you free library card templates, downloadable from the online template library. All you do is change them as you wish, with your address or your opening hours, using the Evolis Badge Studio software. One final click and your library cards are printed in seconds.