Your school cafeteria card printer
Easily identify your students with their cafeteria card
The school cafeteria is an essential part of the day for students who receive school lunches. In order to optimize this service, it is essential to provide each child with a personalized cafeteria card. This allows staff to easily recognize each student with their name, photo, grade, or even the days they receive lunch.
The cafeteria card can also play an important role in providing for the specific diets of certain children (gluten-free, vegetarian, etc.) and/or identifying allergies that need to be considered (lactose, nuts, etc.).
This makes life easier for your staff, who can visually identify students with special dietary requirements, and reassures parents by ensuring that their child receives the right meal.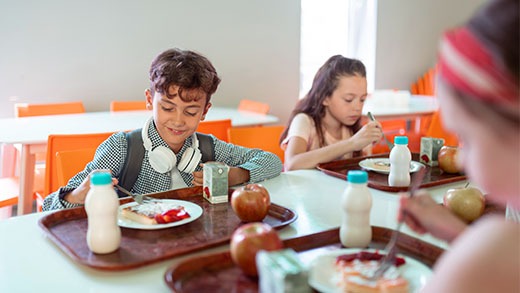 The Badgy cafeteria card printer allows you to implement this method of identification quickly and efficiently. The package includes free downloadable cafeteria card templates and personalization software so you can start printing all your cafeteria cards. In addition, printing on a plastic card ensures that you get a durable, easy-to-clean cafeteria card that can withstand daily use by children.
Simplify the management of your school's meal service with a cafeteria badge
Running your school cafeteria can be complex. Implementing a cafeteria card is a way to simplify the billing of each student meal. Each badge can have its own number or barcode. Once scanned, your system may automatically recognize the student associated with the meal and record the amount to be billed to the parents. The use of a barcode on the cafeteria badge can also simplify the management of access to your cafeteria.
The flow of students at the register can be automated. Children no longer have to wait at the register, improving the flow. With Badgy's all-in-one solutions, you don't need to be an expert to create a cafeteria card adapted to your needs, even with a barcode. The Evolis Badge Studio software included in our solutions offers a simple tool to generate your code from an Excel database. So you gain independence and save time.
Welcoming a new student? Or has one of the children lost their cafeteria card? You can reprint it in a few seconds and keep your data up to date.