Meeting the expectations of your citizens is the key challenge for local authorities
In today's world, citizens have high expectations of local authorities. You are on the front line when it comes to their needs and you must respond effectively, while addressing your own organizational and budgetary issues.
Did you know that in France, citizens rate their level of attachment to their local community at 6.9/10*?
In the United States, 59% of the population feels a minimum attachment to their town or city.
And almost 80% of them are satisfied with the quality of life in their local community.*
These figures confirm the importance that citizens attach to the place where they live and what it has to offer them on a daily basis in terms of their family, their comfort, or their recreation. The attractiveness of the area is not only essential for the current inhabitants, but also for bringing in new ones.
And as a local authority, you have many different responsibilities that complement the state: social action, culture, sport, tourism, school transport, education… So many services for which you must ensure the quality, enhancement, and provision of information to those citizens who can enjoy them. Moreover, still in France, the maintenance and development of local services must be THE priority for local authorities in municipalities of less than 10,000 inhabitants, which represent 48% of the population.*
What if we offered you a simple way to promote your services?


Create all your own badges for your local services
Cards for your entire service offering
As we have already mentioned, the range of your services is extensive. Did you know that the possibilities for card creation are just as great? Badges and cards can be used for many purposes and are a simple tool to put in place. They professionalize your services through quality rendering and reinforce the sense of belonging amongst your citizens and employees.
So what types of cards could you create for your local community?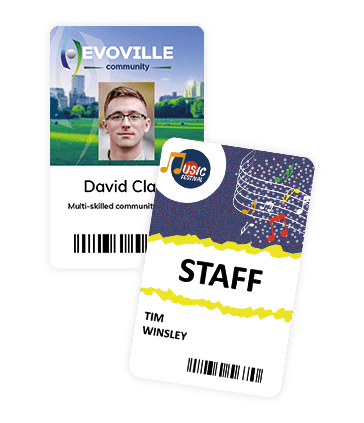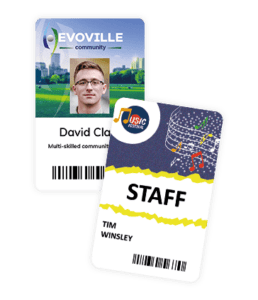 First think about your own structure. With a solution such as Badgy, you can create and print:
Badges for your municipal officials, whatever the department (administration, highways, parks and gardens, culture and sports, municipal police, school personnel, etc.) and for all the people working for your organization on an ad hoc basis. This ensures easy identification, especially when they are in close contact with your citizens.
Event-related badges for organizers and participants if required. This way you can visually distinguish between people on site and their access to the event.
You can provide badges linked to cultural and sports activities or to any other structure with restricted access in your local community:
Access badges to the waste center with a QR code or barcode that will allow you to verify that your waste center is only used by authorized persons. You can even keep track of the number of visits or limit them per person or per household.
Library or other cultural venue cards for members. They allow you to manage your book loans and memberships more easily.
Membership cards for your sports or cultural associations. Thanks to durable material and the indication of a validity date, they can be kept for the entire duration of the membership. They also certify that the member agrees to abide by the statutes and internal rules set up within the structure.
A Tourist Pass if you have museums or any other cultural and tourist attractions in your area. It enhances the value of the attraction by publicizing it and offering, for example, a preferential rate to pass holders.
A "parking" card for your year-round residents, allowing them to park with priority in certain streets.

Finally, in agreement with your town or city's school, after-school, or daycare services, you can offer them the possibility of acquiring:
Canteen cards with a barcode to facilitate the management of the children on site as well as the invoicing for their parents.
School/after-school cards to easily identify children, especially during outdoor activities, or if you are providing camps or vacation centers.
School transport cards if you run local buses or walking school buses.
And all the other cards they may need for their facilities: names for coat racks, signs for equipment… They can even create games on the cards!