The QR code has gained in popularity in recent years and become widely accessible. Not only due to the widespread use of smartphones but also, more recently, in view of the health situation that has impacted our daily lives.
Contactless was already a growing trend, it has now become vital. And Badgy is here to help you meet this considerable challenge!
Thanks to our printing solution, you can create your own plastic QR code menu card and, in doing so, provide multiple solutions for your bar or restaurant – avoiding contacts while offering your customers an optimal service.
Enhance the customer experience with a QR code menu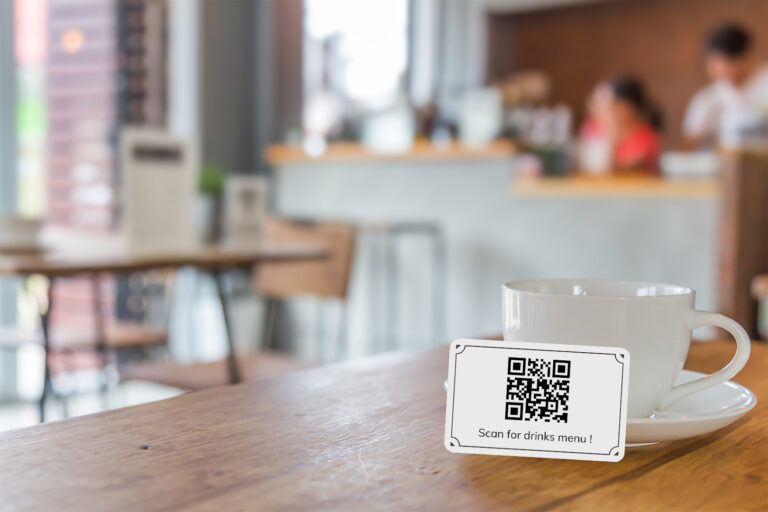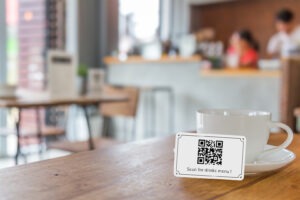 Display your products
Having taken an increasingly important place in the daily life of most people, the QR code (like digital technology in general), can offer many advantages for your bar or restaurant.
One of the problems you may encounter is how to display your menu and/or your selection of dishes and drinks. This is one of the key steps in the customer journey because what they are going to eat or drink is the first thing that concerns them.
Time to change your habits?
With new measures to limit contact, handing out menus and/or drinks lists is now strongly discouraged. This could be the time for you to change your habits!
Depending on the layout of your venue, having the dishes and/or drinks written out on a large chalkboard may require your customers to move around and will therefore entail a major organisational problem.
How about disposable placemats? Not such a good idea as they may seem, since they could prove expensive and impractical, as well as having a significant environmental impact. The reusable placemat, on the other hand, could involve a health risk due to being handled by different people.
So you need to find another solution… And at Badgy we have just what you need.
The QR code menu: a simple, multi-purpose solution
Gain flexibility and autonomy
A digital menu for your restaurant or bar can be the key to improving the experience of your customers while enhancing the quality of service of your team.
Thanks to a QR code card, you can guarantee your customers instant access to your menu, without any contact, since they can find it directly via their smartphone. They just scan and order… and it's done!
Create and print your own QR code card
How to create a QR code for your menu?

With our Badgy printing solution, you can independently create and print your own QR code card! The Badgy100 and Badgy200 printers provide high quality printing and also guarantee optimised accuracy for code reading by smartphones.
Creating a card couldn't be easier! With our all-in-one solution, you have everything you need:
A printer (Badgy100 or Badgy200)
Software
A pack of consumables (print ribbons and card stock)
You can easily import all the elements you need to create your QR code card directly into our editing software:
Logo
Colours
Typeface
QR code referring to your digital menu
This increases efficiency, as you can create in minutes what can be printed in seconds!
With Badgy, you benefit from many advantages!
Having a personalised QR code menu card brings many advantages, for both you and your customers:
A card with a digital menu that you can update in a few clicks
A QR code medium that can be customised to your image
Immediate and contactless access to your menu for all your customers
More efficient service for your entire team
As well as printing your restaurant and bar QR code menus, the Badgy solution will allow you to create and print your own:
Name badges for your front-of-house team
Attractive gift cards
Loyalty cards for your regular customers
Need ideas? Go to our card library to discover all our card templates.