Founded in 2006, BNI Terre Atlantique is based in Vendée (France) and franchised in Charente Maritime and Charente. It has more than 400 customers. BNI (or Business Network International) helps professionals develop their business on the basis of mutual recommendations. Since its creation, BNI Terre Atlantique has become a major national network and has continued to welcome more and more new members. It was therefore essential to find a sustainable solution to be able to identify each of them.
Professional-looking name badges for each new BNI member
Ms. Lescure, the executive director of BNI Terre Atlantique, had previously used badge holders into which members would slip their business cards. But the information was in too small a font and did not allow for sufficient visibility. The other disadvantage was the different appearances, since each member came with their own business card (and so with their own color code) and all the cards, with their disparate looks, did not give off a visual coherence.
In 2018, at a bakery, Ms. Lescure happened across the Badgy solution. Here it was used to create and print loyalty cards, but she had the idea to adapt it for her own use: identification badges for all her customers. The company chose to replace its old badges with a plastic card printed with the Badgy solution.
This includes:
a plastic card printer
creation software (Evolis Badge Studio)
consumables (cards and print ribbons)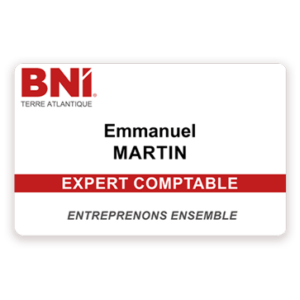 Thanks to the Evolis Badge Studio® design software, Ms. Lescure has created a card model entirely customized with the image and colors of her organization. Her professionally rendered cards include:
The customer's name
Their professional activity
The logo of BNI Terre Atlantique
Its motto
Printed in a few seconds by the Badgy200 printer, they are immediately given to each newcomer at BNI Terre Atlantique. Since its implementation, more than 1,000 cards have been issued and Ms. Lescure estimates that she needs to print more than 200 cards each year. That is why she needed a solution that would meet her needs—and that solution is Badgy!
Badgy, an all-in-one solution that allows great freedom
After several years of use, Ms. Lescure is still satisfied with her choice for several reasons:
The professional look of its new membership cards
The resistance and durability of the plastic card medium
The low cost of the solution in relation to her requirements
And for added convenience, Ms. Lescure has adopted "magna-badge" holders, which are badge magnets that are quick to attach and won't damage clothing, allowing BNI members to carry them with ease.
"I chose Badgy for the professional appearance of the cards and the result is great! It gives our customers visibility and they wear them proudly."

Ms. Lescure, Executive Director of BNI Terre Atlantique